Bunkon Tuon Review of Tony Come Back August
by Tony Gloeggler with photographs
by Marco North
---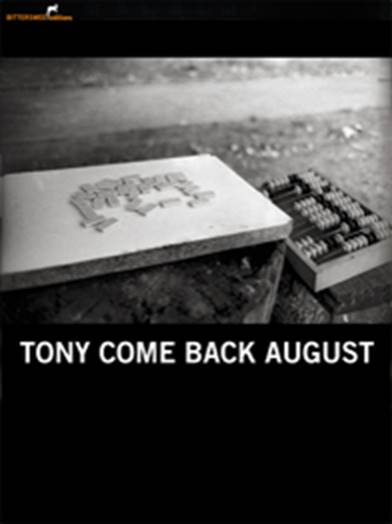 Tony Come Back August
Poetry
Bittersweet Editions, 2015
64 pages
ISBN: 978-0-9897153-1-7
http://bittersweeteditions.businesscatalyst.com/tony-come-back-august.html
Tony Come Back August is a collaborative effort between poet Tony Gloeggler and photographer Marco North, containing thirteen poems about the poet's relationship with his ex-girlfriend's autistic son and seventeen black-and-white photographs of ordinary men and women that the artist took on his visits to Tbilisi, Georgia. The words and images work together to create a world of loneliness and longing, where dreams are somehow attained, but somewhat broken, where the fragility of human relationships is depicted unflinchingly, without any attempt to explain or apologize.
We are introduced to "Jesse" in the opening poem "Goodbye," which, I argue, is the key to understanding the relationships the narrator has with Jesse and Jesse's mother, Helen, and I will refer to it throughout this review.
Here are the first few lines of this poem: "Today, I picked Jesse up / from music group. He said / my name soon as I stepped / through the door, tried to run / to me. The therapist stood / in his way, forced him to stay / until he made eye contact, / said goodbye to his assistant / the other kids." Only later in the book do we realize that Jesse is not the narrator's son. At this moment, all we understand is the excitement that this child has when seeing the narrator, and based on this, we are left to assume that this is a father picking up his son from a music lesson. The poems in this book ask us to examine the difference between a biological parent and, for lack of a better word, a guardian. For the narrator, there is no difference in the degree of love and affection that the adult has for the child. Later in the poem, when Helen takes Jesse and moves to Portland, Maine, the narrator reveals: "I don't know if he can grasp / the concept of missing someone / or understand how hard / it is for me to keep from crying."
In "Weather," the narrator describes this fun, playful moment that any parent can relate to, this magic, "I lift him as high / as the ceiling, bounce / him on the bed over / and over until we both / run out of breath, ready / for a Beach Boys lullaby / to close our eyes, hopefully / help him, me, sleep / through the night, please."
Jesse is autistic. Riding the NYC subway to Brooklyn with Jesse, the narrator wonders in "Goodbye": "I glanced at the other riders, /curious whether they could tell / something was wrong with Jesse / then wondered what he was thinking, / if his brain could hold anything / other than shapes and colors / flying past, the feel of glass / against his fingertips, the thought / that his mommy would be waiting / three, now two, stations away."
But having access to verbal language doesn't mean that direct, clear communication is available and it certainly doesn't guarantee that we understand those who are close to us. The poet laments the loss of his relationship with Helen in bits and pieces as if the narrator himself doesn't fully understand what happened. In "Airport," he describes his excitement at the possibility of seeing Helen as a "left over ache" that "flares up like an old injury," and then he understands why he has this feeling, remembering "how she suddenly / went from telling me all / her thoughts and secrets / to extended bouts of dark icy / silence, the way she once / couldn't keep her hands off / of me whenever I was near / to sleeping on the couch / while I remained the same / weird wonderful asshole / I have always been." In "Goodbye," we get a glimpse of the narrator's anxiety about the relationship, love and being committed to someone for the rest of his life, "The Sunday after, finished / with my bowl of oatmeal, / I was watching her lift / her teacup to her lips / when I realized I wanted / to spend my life with her / and it scared me to death."
What is constant, permanent, is the narrator's deep love for Jesse. In "To Believe or Not to Believe," the narrator tells us, "I do my best to stay part / of Jesse's life: sending gifts, /visiting four, five weekends / a year, blowing up air mattresses, / ceaselessly climbing in and out / of their blue car, blindly driving / the endless two lane highways / and back roads that make up / the secret maze mapped out / in the deepest parts of Jesse's / ever anxious heart and mind." At thirteen, Jesse is like any other teenager. He craves autonomy and independence, listening to his MP3's and hanging out with his own group of friends. And, of course, he thinks he's too old to give his old man, the narrator, a hug. In "World of Wonders," when asked for a hug, Jesse "leans in, lends me his cheek / as usual. When I say, a real hug, / he extends his arms straight out / like the wings of an airplane, a huge / bird anxious for flight. But before / he turns to walk away, I say no, / this time I want a squeeze. He wraps / his arms around me and I am filled / with wonder for the ten whole / seconds he can stand to hold me."
Let's return to "Goodbye" one more time, as it is here where we see the origin of this deep love that the narrator feels for Jesse. The poem concludes with the following lines: "No one seemed to accept / or understand I love Jesse, / that the way he will never fit / in the world reminds me of me / and I wish he was my son, / my eight year old boy. / My, my, mine." The poem is uncompromising in its confession, heartbreaking in its honesty, and powerful in its love.
Gloeggler's poetry doesn't explain, justify, apologize; he simply depicts what happens when a relationship disintegrates or how the narrator, Helen's ex-boyfriend, can have such deep love for someone else's child. Gloeggler's lines are clean, crisp, tough, and confident. There is courage here, as the narrator shares the same name and life experiences as the poet.
North's black-and-white photography depicts life in Tbilisi, the capital of Georgia. There is a documentary feel to these photos shot with on old film camera, and the subjects are of folks leading ordinary lives, undergoing life's mythic rituals of youth, adolescence, adulthood, and old age. Some subjects are aware they are being photographed, such as teenagers smoking cigarettes and staring defiantly at the camera or a middle-aged woman smiling back at us. Then there are those who are caught unaware, revealing a moment of truth. One photo has two young women on the street staring at something to the right of the camera, but we don't know what it is that seems to possess them at that moment in time.
Of all these photos, ones that spoke to Gloeggler's poetry are those that capture the relationship between a child and his parent. There is one with a man, probably in his late fifties, carrying a child, probably five or six years old; they seem to be on their way somewhere together. There is tenderness in the way this man holds the child. Another photo has a grandfather and grandson standing in the corner of a street, looking in the same direction, their heads turn at the same time, as if they were mirror images of each other. Then there are photos of children shooting water-guns at each other in a small alley hidden somewhere in Tbilisi, of a wedding procession with children trailing behind the bride and groom, of a woman carrying a small child on her back.
These are photos of ordinary life, nothing more and nothing less. One that haunts me contains an old rotary phone sitting on some slab of concrete outside a building. It speaks to our difficulty in communicating and the possibilities for miscommunication, disconnection, and loneliness. It speaks volumes to the world of Tony Come Back August and to our contemporary world where no one speaks to each other anymore, where everyone takes a smart phone out texting and checking Facebook status. It's a world devoid of substantial conversation and deep listening.
On his blog "Impressions of an Expat," Marco North explains the idea behind the duo: "Every once in a while you have a big idea. I wanted to make a little book, something for people to to slide into a pocket and read on an airplane, a slim bit of life to savor. The idea was to call it a Duo, somewhere between a jazz duo and a rock and roll act. Two stories intertwined, banging against each other, the rough and raw against the sublime, the hard fought victory, the miniature triumph, the gut punch, the aftermath." This is a great first output from team Gloeggler and North. It's a little book that is slim enough to fit in your pocket, but beautiful and powerful enough to knock you off your feet. It's under ten dollars, so what are you waiting for? Go out and buy a few copies, give them to friends and family for birthdays and Christmas.
Links –
http://bittersweeteditions.businesscatalyst.com/tony-come-back-august.html
http://impressionsofanexpat.blogspot.ru/2015/09/wandering-nameless-streets-tony-come.html